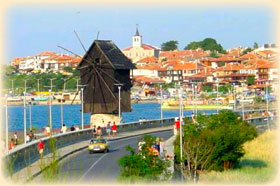 Nessebar - a small piece of land embraced by the sea, tied with a narrow rope-like neck to the quay of the continent.
The old town is long only 850 m and is 350 m wide. During the different periods of its existence it has lost 1/3 of its territory, which sank into the sea. Under the water, 80 meters away from the coast still can be seen remains of the fortress's walls.
At present is preserved only the western wall with the gate, which defended the town from the mainland. The Nesebur Peninsula - the ancient Mesambria, which was called Mesemvria in the Early Middle Ages and later - Nesebur, was populated more than three millenniums ago, at the end of the Bronze Age. The ancient Thracians named it Melsambria, what in their language means "the town of Melsa" - the legendary founder of the settlement. Melsambria has had two convenient harbours - a northern and a southern one, in which still are being found remains of the ancient ships' equipment.
Nowadays, Nessebar is one of the most popular resorts among foreign tourists for its ancient spirit and well-preserved remains.